We are offering the flatbed tow trucks as friendly, professional and premium towing services from a highly experienced & dedicated of the three brothers: Frank, Peter & Ryan. Our price is very reasonable and our love is free. We are handling with extra care and treat it as our own cars. Canada Towing Ltd. has over 15 years of experience and we are family owned and operate. We are servicing in the Vancouver, Burnaby, Coquitlam, New West, Richmond and local Fraser Valley area. Please call us for the quote. Thank you!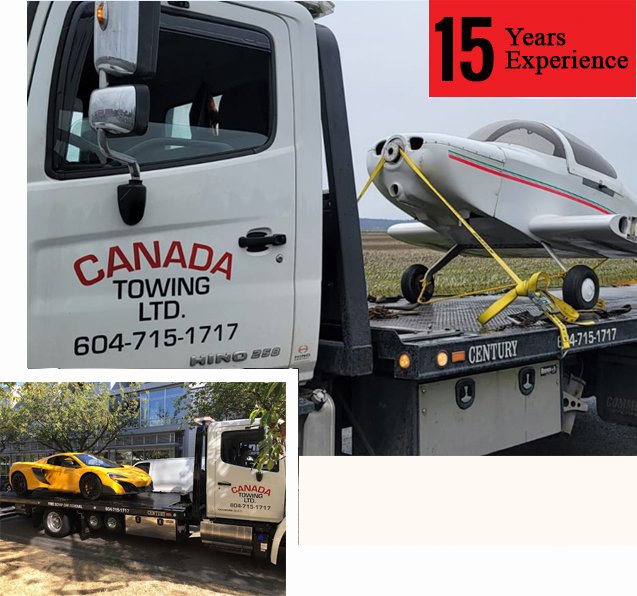 You would do well to obtain pricing on towing services and ensure you are getting a good deal. The best deal means the best service for the best rate. If you call for an exceptionally low-budget towing service, you might find yourself dealing with an amateurish tow truck operator or operation that doesn't do good work and might damage your vehicle.
We at Canada Towing LTD, are well aware of the aforesaid quote. Our sole aim is to provide full service to the sudden wrecks and thus, satisfy your fulfillments to the best of our ability. All the hauling and technical maintenance are handled with immense care. The history of Canada Towing LTD goes to 15 years back when we first opened our doors to one of the leading towing service providers. As a self owned and operated towing service, we assure our clients efficient and professional towing services during an emergency or required shifting, as they need us.
When it comes to car trouble, we understand that it can strike when you least expect it. That's why it is our mission to be the honest and reliable towing company you want by your side. We operate 24 hours, 7 days a week, 365 days a year to ensure we're available when you need us the most. If you find yourself stranded with a dead battery or in need of a tow, think of us as a friend. Here to help you get back on the road and on with your happy journey. Our goal is to provide affordable towing services and top notch customer service. For that reason, all of our tow truck operators are uniformed, trained and licensed. Operators are also subject to annual background checks and regular drug testing. Our professionally trained team can handle any towing, recovery, or road service situation from the smallest car to the heaviest tractor trailer. We also provide a complete line of cargo offloading and load shift services as well as minor roadside assistance, off road recovery, fuel delivery, and tire changes. One thing that makes us stand out over other tow truck companies is the fact that we have one of the largest fleets of towing and recovery equipment in British Columbia, Canada. Because of this, we are able to respond quickly to your calls and provide expert light and heavy duty towing as well as all emergency roadside services.
Hauling
Sometimes, a job requires equipment to be transported from one place to another.  We are offering service to transport the mini bobcat, mini excavator, boat and trailer.  We have experience and skill to get the job done and safely to the destination.
Scrap Car Removal
Scrap car removal benefits are plenty and you definitely have some for the environment.  You get to free up space in your house or garage, earn some cash, and even help the environment.  There are many reasons to scrap a car.  Maybe you have neglected it and it is now beyond repair.  Whatever your reason, scrap car removal is a good option for vehicles that you do not intend to use or keep anymore.  While you get to earn extra cash, you also get the opportunity to help in the conservation of the environment.  Please call us today to get your scrap car out and getting your private space back.
Battery Boost Service
If your car is having trouble in gearing up, either left the light on or have not use the car for a while.  You need vehicle boosting services from a professional car towing or roadside assistance services company.  It might be tricky if you don't know how to do, it can damage or burned the fuse and it might cause the computer of the car useless.
We are offering our expertise and providing you this services for your need.  We have a booster pack and the heavy cable to jump start it.  Please give us a call and we will get it done.
Unlock Vehicles
Locked the keys in your car by mistake?  Don't panicking, relax and sit back we can help you.